Cover Page
Table of Contents
Teaching Suggestions
Prologue
Foreword
Reader's Guide
Excerpts

Film in DVD or VHS

Companion to the books Visages de la Shoah : Marcel Jabelot and Faces of the Holocaust: Marcel Jabelot

In 1995, Barbara P. Barnett produced the video Visages de la Shoah: Marcel Jabelot, with Martha G. Lubell and Sharon Mullally. It received Honorable Mention in the Jewish film competition at the Judah Magnus Museum in Berkeley (California), aired on Free Speech TV, was featured on National Public Radio, and shown at numerous professional conferences in France and the United States. 30 US$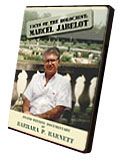 VHS in French, with or without English subtitles;
or
DVD in French, with selectable English subtitles and Chapters: Deportation, Escape, Life After Auschwitz.